So many of us were anxious for 2020 to come to an end, but there are always lessons to be learned from difficult times. The overcoming of obstacles is what musicians do practically every day with their daily practice. However, these struggles of the past year were unfamiliar to most of us and represented unique challenges. 
I learned from these past months how important music and the piano are to my well-being. Playing the piano has kept me sane and focused during these trying times. Interesting that the composer I want to spend time with every day in my studio is Beethoven—not always the easiest guy to be around but my wrestling matches with him and his music are always stimulating and challenging. He always takes me away from where I am and we travel together to far away places. And Beethoven encourages me to go deeper into myself to try and understand his message. It's a life-long relationship and a constant challenge. And what a blessing these days to be able to live with Beethoven and dwell within his music.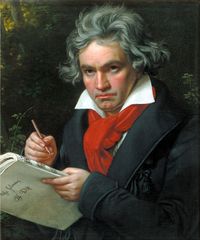 I believe that I now can understand a little better how isolation affected him and his compositions. His deafness left him totally alone within his own sound world. No outside influences, no distractions, only the freedom to follow his own pathway wherever it would lead him. Working on his late sonatas, it is amazing the places where he dared to travel, always without a safety net. There is boldness and courage in his independence. And Beethoven is the poster child for overcoming difficulties. His deafness, usually considered a liability became an asset towards achieving greatness. 
My last public concert was on March 8th in New York City and similar to the fate of most musicians, all engagements since then have been cancelled. The need to perform again found another outlet in my studio. Speaking into my MAC, a new series was created called "Behind the Notes." Each of these programs focuses on one composer and I share the work that I do at the piano while trying to get closer to the spirit and soul of these great ones. It has been fun putting together these 14 programs so far (with more to come) and to create an educational library for the young student and music lover to appreciate. When audiences see me perform on the stage, they hear a somewhat finished product, arrived at after much struggle but rarely does a performer talk about the process and what goes on during the many hours of preparation. And that is what I share within these programs. 
It has been a joy to put this series together and immerse myself into the world of these composers. It has made me go back and explore and rediscover pieces that I have not played in many years so the process has been a growing experience as well as a time of reevaluation. It has made me aware of my musical growth and the mission that I wish to accomplish in this life. 
And more importantly it has been fun to share, as best I can, with an audience that at the moment is feeling a bit isolated from their community. There is no doubt that music is a nurturer of the soul and can help restore a well needed balance and equilibrium.  I remember as a child the magical world that the piano opened to me— what a privilege and a blessing it is to reenter that secret place and take you with me on an exciting voyage.   
Here is the opening program of our "Behind the Notes" series featuring everybody's favorite Beethoven sonata, The Moonlight. Enjoy!