A new year- a new decade- new beginnings- a fresh new calendar proclaiming that we are going forward into the future presents us with new and exciting possibilities. The blank page beckons and awaits our decisions as to where we want to travel on this journey! Where will our time be spent and what will become most important as we proceed on life's pathway. Having just celebrated a landmark birthday, I am even more aware of the value of time.  Fortunately now I can focus on the things I wish to leave behind for future generations. 
On that note, I am delighted to share with you that the Three Oranges Foundation is now firmly established and up and running. (http://threeorangesfoundation.org)  I am excited by the possibilities and how many souls can be touched with the sharing of our educational projects.  Our mission is to make music accessible to many— to bring it into the community, into the schools—to make it a vital part of everyday life, and to make a difference. 
It is my firm belief that anyone can respond to classical music—the factory worker as well as the university professor. Prior education is not required. The only prerequisite is the ability to listen and allow ourselves the freedom to feel and go where the music takes us.  How fortunate musicians are!  No translation required—no words are needed to express emotions and transport the performer and listener to a magical place. 
Perhaps that's why I adore the romanticism of the 19th century. There is a freedom within the music to go wherever the heart wants to travel—and what a wide range of emotions to experience along the way. When I think of Rachmaninoff and his music, I hear his divine gift to take us to the darkest places. But he never just leaves us there to wallow in the grief; he always manages to bring us back into the light—back into the sunshine—more enriched than before by the journey.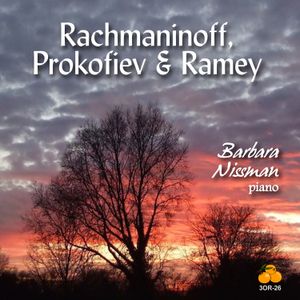 Our latest CD on the Three Oranges label (http://threeorangesrecordings.com) Rachmaninoff, Prokofiev & Ramey includes a recording of Rachmaninoff's Second Sonata- the earlier uncut version as well as his Six Moments Musicaux. These works present a technical challenge for the pianist especially for a pianist like me with a small hand and limited stretch—just imagine Rachmaninoff's huge hands that could expand to cover nearly a 15th on the keyboard-- I can barely manage a ninth! In addition to the technical challenges, these works present us with an emotional and spiritual hurdle. We need to trust in what Rachmaninoff is saying and open our soul to go with him to these darker places of the heart.  And after all its technical challenges are conquered and its many notes mastered, only then do we have the freedom to experience the music's many emotional and spiritual layers. And the good news is that every time we explore these works, there is so much more to be discovered. Each performance becomes a different moment in time. As we grow emotionally and spiritually, we uncover yet another layer. 
Quite enough to fill up the hours on that new calendar in the life of a pianist.