This is exciting news indeed! The Prokofiev Archive that was begun by Lina Prokofiev, the first wife of Sergei Prokofiev and was originally housed at Goldsmith College at the University of London, is now moving to this side of the ocean. The Archive has been acquired by Columbia University and the Dedication will take place on Friday, April 24th  in New York City with many of the remaining Prokofiev family members present. I feel very honored and so pleased that I have been asked to play at the dedication ceremony.  It should be a very special evening. And what a gift for all Prokofiev scholars to have this archive now located in America.
            http://italianacademy.columbia.edu/event/music-serge-prokofiev
 
The program opens with Prokofiev's youthful First Sonata, his Opus 1, the first work he felt was good enough for an opus number (performed by Russian pianist Sergei Dreznin) and then proceeds to the Ugly Duckling (performed by Dreznin and Erica Baikoff, soprano) that was written for Prokofiev's first wife Lina to sing. Lina and Serge frequently gave concerts together, but Lina was never able to pursue a truly serious career as a singer because of many unfortunate circumstances that seemed to align themselves against that ever happening.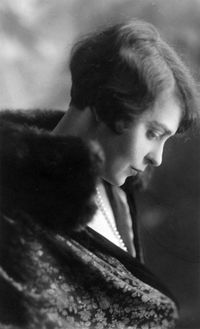 I regret that I never had the chance to meet Lina personally- I did meet her younger son Oleg when I came to London in 1989 to present the three-concert series of the complete Prokofiev sonatas and I treasure the words he shared with me after those concerts- "I'm so sorry that my mother couldn't hear you play my father's music- she would have loved what you are doing and loved how you bring his music to life."
 
I will be perfor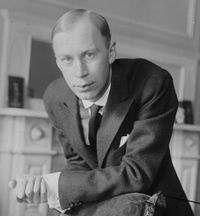 ming the Old Grandmother's Tales- the first pieces that Prokofiev wrote on American soil in 1918.  As soon as Steinway delivered a piano to his hotel-room, Prokofiev sat down to write these. He wrote them quickly and also stated in his Diaries that he thought No. 4 was the best of the set. Personally, I would vote for No. 2 but all four are wonderful character pieces.  Prokofiev certainly is a master storyteller- he makes us see and hear the old Russian grandmother, waddling from side to side as she recounts her ghostly tales to her young listener. And the inscription that he leaves at the top of the first piece is bittersweet. "Some of her memories are long-forgotten; others are as fresh as if they happened yesterday!"
 
The program concludes with what I believe to be Prokofiev's masterpiece for the piano, the Sixth Sonata. It's a symphony for the instrument. The most monumental of the Sonatas, the Sixth is the first of his three "War Sonatas" that he started to write in 1939 after he had officially returned with his family to the Soviet Union.  He started writing these three works simultaneously during the War Years - if he got stymied working one sonata, he could immediately shift gears and go to another one. The Sixth is my favorite mainly because it truly has everything- there is so much to challenge the performer- extraordinary pianism, a wide emotional palette that ranges from the most intimate expression to the most brutal cries from the gut and everything in between. We witness his extraordinary craftsmanship with form as he links the first movement and the finale together, using that opening motive and working it to its conclusion to unify the work. And listen to the way he can build layers of texture and sound in the development section of the first movement  He seemed to have learned his motivic technique from the master Beethoven. We also hear Prokofiev the comedian occasionally jabbing us in the ribs in the second movement and encounter a romantic lover in the third movement's nostalgic waltz. I jokingly refer to this movement as Prokofiev's answer to Gershwin's "The man I love." Not so far-fetched an idea either!  Prokofiev and Gershwin did meet in Paris in the 20's and sat down and played for each other!
 
Why do I keep returning to the music of Prokofiev?  For me, he continues to be new and modern. His pianism gives him an extraordinary freedom of expression. When all the pianistic layers are peeled away, what remains are the traditional elements of harmony and melody but transformed into a very personal language- a language that goes deep into the soul, filled with joy, passion, humor and the love of the spirit that it conveys. How fortunate we are that he has left us with such a legacy of great music!!