There is so much talk these days about the death of classical music. People lament waning and aging audiences, and question the relevance of hearing serious music played well. Presenters always look at the economic equation- the bottom line and ask: can we sell it to our public? The question that should be asked is: how can we make this music relevant to people's lives and build an audience for music that should be heard and experienced first-hand—music that nurtures the human soul. Within the complex world in which we find ourselves, music helps the human condition, and its message goes directly to the hearts of the listeners. 
It is a great pleasure to report that last Sunday, March 4, 2018 a recital of "Old & New Favorites" was presented to a packed house and a cheering audience at our little Carnegie Hall in my hometown of Lewisburg, West Virginia. Granted, the first half consisted of lots of "old chestnuts"- popular tunes that we all love to hear. However, the music was not watered down, and in the second part of the concert a "new favorite" was introduced— the uncut version of Rachmaninoff's Second Piano Sonata— a work not frequently performed. 
I believe that the secret of this successful concert was in sharing my passion for these compositions with the people who were there—chatting with them and helping them to feel comfortable responding to the beauties of music that I love.  The music was made accessible and relevant by humanizing the composers, and providing the keys to open the door to understanding. 
Anyone with a set of ears and an open heart can respond to classical music. I experienced this early in my career when I was asked to be the first Artist-in Residence for the farm equipment company, John Deere. Hired for eight weeks spread out over the year, I was asked to develop a lunchtime series for the workers.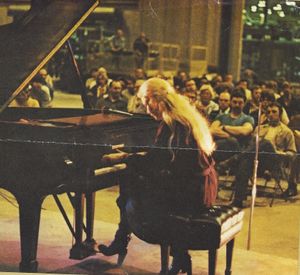 The Steinway was wheeled into the lunchroom; the machines were turned off, and for 40 minutes, the men, while eating their brown bag lunches, listened to me talk about my good "friends", Liszt, Chopin, Prokofiev, Rachmaninoff. As I walked in to my very first concert, one of the guys yelled out to me-" Hey Blondie, how about a little Clair-de-Loonie!!" Luckily I had that in my fingers that day. The ice was broken and I played and chatted and shared with them the music that I was so passionate about. Then I invited all of them to come to my evening concert—that was also part of my deal with John Deere— to develop a lecture series for the general public— and I was lecturing that evening on the Liszt Sonata. And the good news is that so many of these men dressed up to come to my lecture with their families that evening; afterwards, they started asking me questions about my composer "friends." So the experiment worked and we built up to a "standing- room only" audience for this lecture series! 
I have experienced the joy of sharing classical music with new listeners, and am excited to report that we have established the Three Oranges Foundation to continue our educational work through concerts, lectures, recordings, master-classes, symphonic appearances, and a new educational DVD series. Our purpose is to take classical music to the people and to make a difference in people's lives— touching souls— giving them a sense of hope—inspiring them to reach for the impossible! And that is what it is all about. So thankful for this unique opportunity!